Dark Lord of the Starchy Root Vegetable
This is the coolest toy in the world, and since I am too lazy (and drained, but mostly lazy) to post anything serious today, I thought I would share a picture of the coolest toy in the world...DARTH TATER.
This combines two of my favorite things: StarWars (more specifically Darth Vader, Lord of the Sith) and the classic 'Mr. Potato-head' to make the ultimate form of childhood entertainment.
For anybody who loves me a whole lot and wants to spend approximately 14 dollars, please feel free to buy me one and have it shipped to Shepherd or just deliver it in person.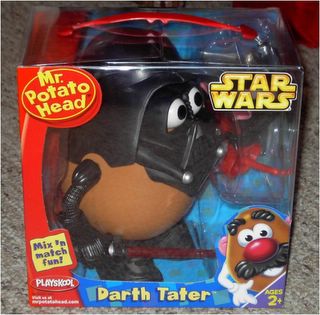 'Mr. Tater-head...I am your father'

Get used to hearing about StarWars because as the date for the release of Episode III draws closer, you can bet that I'll be yapping about it. Until then...May the Force Be With You, Always ;)